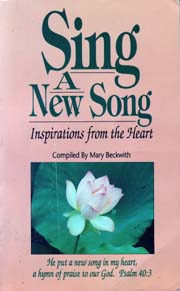 Publisher: Evergreen Publications
ISBN: 0-9262-8407-X
Featuring:
A Love Bath
by Kitty Chappell
(excerpt below)
---
Yesterday I bathed my two cats in a nontoxic flea solution. Smokey spit and scratched me, making the job not only more difficult but twice as long and hard on both of us. Cinco struggled and cried for a few moments. Then with sad eyes fixed intently upon my face, he laid his head on the side of my arm and yielded.
My eyes filled with tears as I realized the truth of the moment. I should be more like Cinco and less like Smokey. How I struggle and fight when uncomfortable! I recalled bitter disappointments when things hadn't gone the way I'd wanted, specifically that "perfect" job I had wanted where all of the employees were Christians. But no, I had been hired by a firm where I was the only Christian. How I struggled to get out of that situation-an office steeped in immorality, including drug and alcohol abuse.
I had given my notice but agreed to stay until I found another job. Though I received the highest ratings on tests and interviews, it was as though some force were holding me back. I cried out to God and was told to be still. I went on more job interviews and each night lashed out with sharp complaints. I searched God's Word for some reason for His firmness, and I began to notice a pattern.
"Love your neighbor as yourself" (Matthew 19:19); "If God so loved us, we also ought to love one another" (1 John 4:11); and finally, "It is not those who are healthy who need a physician, but those who are sick" (Mark 2:17).
I complained that although my co-workers liked me, I was uncomfortable there for I had nothing in common with them. God's Word showed me how wrong I was. "While we were yet sinners, Christ died for us" (Romans 5:8), and "There is not a righteous man on earth who never sins" (Ecclesiastes 7:20).
At last I had yielded and let God fill me with love for an office in which He was ultimately exalted-through the reflection of His love and truth-in me.
I glanced at Smokey, who sulked in the far corner of the kitchen, and recalled how I, too, had resisted what I thought was a bad experience. I now know that God gave me exactly what I needed by not giving me what I wanted, when He gave me His love bath.
Prayer: Lord, help me in difficult times to lay my head against You and trust You completely. Amen.
***
Published in Sing A New Song, devotional book by Mary Beckwith, 1991, Evergreen Publications.