A True Story of Abuse and Forgiveness
OUT OF PRINT – available only  at Amazon.com and Barnes & Noble online as used.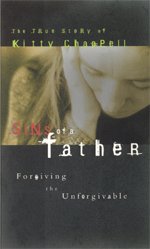 Kitty Chappell grew up with horrific abuse at the hands of her father, who, after years of terrorizing his family, finally beat Kitty's mother nearly to death with a claw hammer. In the ensuing trial, the reputation under the microscope was not that of the would-be murderer but those of Kitty and her mother, as Kitty's father falsely accused them of prostitution.
Though temporarily safe while her father served his sentence, Kitty lived with a deep rage and struggled with the biblical mandate to forgive. "Two paths stretched before me. But how could I find the strength to forgive when all that was within me screamed for vengeance?"
Available At:
Kitty Chappell's story is extraordinary not because of its anguish, but because against all logic, she has emerged whole. In the process that led to her healing, Kitty reveals her stalemate with God, her deep distrust of men, and how she came to a new understanding of what forgiveness means. She believes that, regardless of our pasts, the choice to forgive is before us all, with the power to destroy us or set us free.
Kitty Chappell is my friend. Actually she attends the Sunday School class I teach. But it was not until I read this captivating book that I really came to know her. Kitty's skill at writing, her honesty in telling her story, and her transparency in sharing her pain combine to make this book a compelling read. As each page reveals her life you will say, "It can't be true." By the time you finish, you too may be able to forgive!
Doug Ross - President, Evangelical Christian Publishers Association