I Can Forgive If I Want To
A True Story of God's power and grace
NOTE: I Can Forgive If I Want to was formerly published under the title of Sins of a Father, Forgiving the Unforgivable (ISBN 1-56309-759-1) by New Hope Publishing. The text of these two books are identical except for minor changes.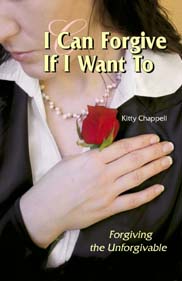 Would Kitty Chappell ever be able to forgive her father?
None of them had escaped his brutality – her mother, younger siblings – not even the family pets. As the firstborn of three children, she felt it her duty to protect her family, but how? Her father had vowed he would kill them if they tried to escape or sought outside help.
Despite his threats, they did escape – briefly – but Kitty's father found them. While the family slept, he tried to kill the sleeping mother, leaving quietly only after he thought she was dead. But by the grace of God, she survived.
Following a dramatic court trial, which hurled unexpected humiliation upon the hurting family, Kitty's father was sentenced to prison for premeditated attempted murder.
God saved Kitty's mother from an untimely death, but could He save Kitty from a life destroyed by hate and bitterness? He wanted to, but He needed her cooperation.
Available At:
Read this amazing true story, with its twists and turns, and learn how Kitty ultimately decided to forgive her father. Discover the secret of how this decision prepared her for yet another tragedy many years later after her father's release from prison.
---