Chicken Soup for the Soul – The Power of Forgiveness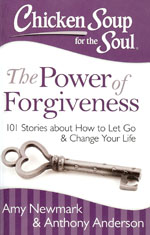 Compliled by: Amy Newmark and Anthony Anderson
Publisher: Chicken Soup for the Soul Publishing, LLC
ISBN: 978-1-61159-942-8
Featuring:
Change of Heart
by Kitty Chappell
(excerpt below)
---
To forgive is to set a prisoner free and discover that the prisoner was you.
~Lewis B. Smedes
"I don't care what you say. I will never forgive my parents!" Tears pooled in the eyes of the well-dressed blonde standing before me in a blue silk suit. She had waited patiently in line to say her piece following my presentation.
"As an only child of affluent parents, I never lacked anything nor was I abused," she said. "However, I was deprived of what I needed most. I was never hugged, told I was loved, or praised for anything. The only reason my childish mind could find was that I didn't deserve their love. So I tried to earn it by becoming an overachiever, excelling at everything, until now I'm the youngest attorney in my office. But I've yet to hear the words, 'We love you, honey, we're so proud of you!' I guess I'll never be good enough."
Tears spilled as she concluded, "Robbing a little child of something that would have cost them nothing to give is unforgivable!" Before I could respond, she turned and walked briskly away.
Having spoken for many years on the subject of forgiveness, I'd heard countless heartbreaking stories, but for some reason this one touched me deeply—and prompted memories of my own past resentments. I recalled a bitter time decades earlier when I was challenged to forgive. Angry tears had blurred my vision that day on the church steps when an older woman asked, "Have you forgiven your father?"
At that moment my father was awaiting transport to the state prison for premeditated attempted murder of my mother. Against all medical odds, Mom had survived his numerous blows to her head with a claw hammer—her punishment for taking us children and trying to escape.
I thought that was such an insensitive question. Why on earth would I forgive my father? I wanted him to suffer! I was still outraged that he'd received only three and a half years for his horrible crime. Glaring at her, I hissed, "I'll never forgive him!"
My charismatic father, well respected within our community, had warned us to never divulge what happened in our home and never try to leave. "If you do," he threatened, "I'll kill you all, then plead temporary insanity. Believe me, I'll never be convicted."
That woman's well-meaning question had merely refueled my reasons for hating my father. Flashbacks covering years of abuse and terror—my wounded mother not expected to live, the recent courtroom drama of humiliation and injustice—swept over me anew.
At the trial, the defense had carefully recast my father as a "kind and devoted family man." When he unexpectedly took the stand I wondered what he could possibly say in his own defense. We listened in shock as he lied to a packed courtroom and sympathetic jury, dramatically describing his heartbreak upon discovering that his wife and older daughter were prostitutes. His award-winning performance won him a minimum sentence. My heart shattered. It was so wrong.
Touched by my renewed memories, I watched sadly as the tearful young woman exited. I collected my books and materials, said goodbye to the event leaders and walked to my car. On the outskirts of town, I stopped at a small café to unwind before starting my long trip home. The aroma and taste of the hot chocolate caramel latte soothed my senses and I slowly relaxed.
What if I had never had a change of heart by deciding to do the very thing I swore I'd never do—forgive my father? I'd likely just be another bitter, miserable person with a victim mentality, shaking my fist at God—or fate—for the bad hand I'd been dealt in life.
Yes, deciding to forgive my father had definitely changed the course of my life—but, oh, what a battle! I had thought I'd be free of my father after his imprisonment, but I wasn't. My bitterness kept me chained to him day and night without hopes of parole. And, strangely, no matter how hard I tried, I couldn't block out that conversation between the woman and me on the church steps.
After retorting that I needn't worry about forgiving my father since he'd never ask me to forgive him, the woman had insisted, "But you still need to forgive him." When I argued my father didn't deserve forgiveness, she agreed and countered, "But don't you deserve the freedom forgiveness brings?"
"I'm not the one in prison," I snapped.
After verbally sparring back and forth, I finally demanded to know just who in his right mind would expect me to forgive my father.
She answered softly, "God."
The following months I battled bouts of depression. As I became more irritable and stressed, stomach problems developed. Maybe I was getting an ulcer? No wonder—after all my family and I'd been through! Something else I could blame my father for!
One day while setting out a mousetrap (we couldn't use poison because of our pets), I wondered if my refusal to forgive my father would be like taking rat poison and then waiting for the rat to die. I doubted my father was suffering at all due to my lack of forgiveness, but I did know that my resentment was slowly poisoning me.
In light of this conclusion, I decided the best thing I could do for myself was to forgive my father. How else could I be free of him? I knew this logically, but my emotions remained unconvinced.
I was at a stalemate. Contrary to the idea that forgiveness is a sign of weakness, I discovered the opposite. Forgiveness requires great strength—strength that I didn't have. So I went straight to the One who promised in Matthew 7:7 NIV: "Ask and it will be given to you; seek and you will find; knock and the door will be opened to you."
So I prayed. "God, I'd like to forgive my father, but I have a problem—I don't want to. Can you change my wants—help me to want to forgive him? Then I will." That became my daily prayer.
Amazingly, several months later, I was suddenly overwhelmed with a desire to forgive my father. Where had that come from? Then I remembered my prayer—God had answered it. All I had to do now was keep my end of the bargain. So I whispered, "I forgive you, Dad, for everything." My bitterness vanished and I was free!
Draining the last drop of latte before hitting the noisy freeway, I couldn't help smiling. Had I continued living in the past, chained by its bitterness and pain, I would have never embarked on my thirty-plus-year journey as an international speaker and award-winning author on the subject of forgiveness. All made possible when over half a century earlier I had a change of heart and forgave my father.
My fervent hope now was that the beautiful young lady in blue would have a change of heart, too, and find the strength to forgive her parents soon and move forward with her life.
* * *
Published in Chicken Soup for the Soul – The Power of Forgiveness compiled by Amy Newmark and Anthony Anderson; released by Chicken Soup for the Soul in 2014. (p 22)